Weight Loss Plastic Surgery Reviews
Dear Dr. Marshall T Partington and Staff,
Subject: The highest quality of service and professionalism.
My name is Eric Smith and I am a bus driver for the music business.  I live a life of constant travel with tight deadlines and constant pressure.  Some days getting little sleep before traveling thousands of miles.  It left me with mot much ME time.  So instead of exercising or eating right I did what many of us do, opt for quick and easy.  Grab a burger or pizza or whatever you could find and then watch some boob tube and sleep.  I managed this life style till I became sick of feeling so miserable.  I looked at all my options and discovered I could get a Lap band that would restrict my food intake with minimal risk comparable to other options.  So at 405 lbs I decided to take the best step of my life.  It wasn't easy and it took nearly two and a half years but I lost 140 lbs. Left feeling much better not to mention healthier.  I have a renewed feeling eating to live and not living to eat.  Suddenly it wasn't a drag to walk somewhere instead of drive or take a cab. I now was met with a new challenge.
When entertaining the idea of having what is now "extra" skin removed after losing 140lbs, one might do some research.  I grabbed the advice of my original surgeon Dr. William Neal of Pacific Surgical Weight Loss Center, PLLC.  He knew of one man who was doing amazing things in Plastic Surgery for weight loss patients.  I called the number when I knew I would be coming through Seattle on tour. My appointment was convenient and I was welcomed with a warm and caring manner immediately upon arrival.  I was then introduced to the staff and was greeted by Dr. Partington in person.  He gave me some definitions of what Plastic Surgery is, and interpretations of the Artwork.
I was never overwhelmed or made to feel awkward.  I felt like I was with a friend.  He read me very well and knew what I wanted with little explanation.  We talked about many different methods and several different routes we could go.  I must have talked with him for a hour and a half.  I walked out the door that day with a new bounce in my step knowing that what I wanted so badly was not at all out of reach.
I decided, after looking over the two plans to go with the Lower Body Lift with Medial Thigh Lift.  This would give me the look that I dreamed of with all my weight loss effort.  I was given all my pre and post-surgery care over long phone calls while on the road.  They tailored the entire experience to my schedule and my needs without hesitation.  They even sent all the information that I needed to my house well in advance.
The day of surgery, which I might add was Dr.Partington's birthday, went without a hitch.  I was treated with absolute care and comfort and it was really like a dream.  I was prepared and left with plenty medications to stay comfortable and in low pain during my long recovery.  It is important to have a good understanding of what your body is going through and what to expect.
With Partington Plastic Surgery I got every bit of that.  I am proud to have had the experience.  I am even happier that I made a great friendship with his friendly and caring staff.  Thank you so very much from the "new bottom" of my heart.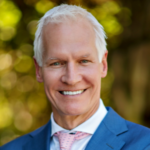 Dr. Marshall T. Partington MD, F.A.C.S. is a board-certified plastic surgeon serving patients in the Seattle, Bellevue and Kirkland areas. Dr. Partington is known for his cutting edge surgical techniques to deliver natural-looking results to his patients. Dr. Partington views each person and their story as a new journey with a very specific and unique objective. The happiness and gratitude of our patients is his greatest reward of all.