Pros and Cons of Subglandular and Submuscular Breast Augmentation
When you make the decision to undergo breast augmentation, there are a number of techniques to consider when it comes to breast implant placement. Breast implants can be placed behind the breast glands and the skin (subglandular) or they can be placed deep under the muscle and breasts glands (submuscular). Read on to learn more about these placement options and when they are recommended.
A Quick Anatomy Lesson
The first step to best understanding these placement options is to understand the anatomy of the chest and breast. The breast muscle is called the pectoralis major and it is a flat and thick muscle that covers the upper front portion of the chest and under the inner portion of the breast glands. The lower outer portion of the breast is found at the top of the deeper muscle called serratus anterior. Pectoralis major starts at the collarbone, passes over the breast bone and reaches the ribs. Pectoralis muscle fibers converge laterally over the ribs and upwards to make the border of the armpit.
Subglandular vs Submuscular Placement
Subglandular
Recovery time tends to be shorter and more comfortable when the implant is placed over the muscle, and the breasts may appear a bit more lifted. However, because the implant is placed closer to the skin's surface, it may appear slightly less natural than if it were placed below the muscle.
Submuscular
The breast tissue and muscle act to support the implant when it is placed behind the muscle. However, recovery time may take a bit longer and tends to be a bit more uncomfortable than being placed over the muscle.
When is Each Placement Recommended?
Generally, submuscular placement is used with women when silicone gel or saline implants are used. However, if highly cohesive silicone gel devices are being used, subglandular placement may be an option, since they do not wrinkle or ripple easily.
If the breasts sag, the subglandular placement may offer a lift which is not restricted by the overlying muscle. The subglandular placement can also help to prevent implant animation.
For more information regarding breast augmentation, contact our office today to schedule a consultation appointment.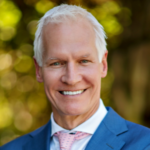 Dr. Marshall T. Partington MD, F.A.C.S. is a board-certified plastic surgeon serving patients in the Seattle, Bellevue and Kirkland areas. Dr. Partington is known for his cutting edge surgical techniques to deliver natural-looking results to his patients. Dr. Partington views each person and their story as a new journey with a very specific and unique objective. The happiness and gratitude of our patients is his greatest reward of all.